Classified ad details
Woven Wire Mine Support Mesh – Soft but Tough For Mine Safety - Lawn, garden & patio
Ref. number: 42344 Updated: 26-04-2019 11:17
| | |
| --- | --- |
| | |
Woven wire mine support mesh is another popular coal mine supporting mesh. It is manufactured from automatic machine to ensure the accuracy of mesh size and whole sheet size. High quality steel wires have high tensile strength to withstand the impact from falling stone and prevent them from falling down. Galvanized wire has excellent corrosion and rust resistance performance to ensure the long service life.

As we all know, the woven wire mesh has warp wire and weft wire. Different from other woven wire mesh, which each weft and warp wire are individually, this type woven wire mesh has a whole weft wire and each warp wire is individually. In this way, can the woven wire mesh ensure tight structure and will not loose during using.

The wove wire mesh has unilateral and bilateral edges. And the bilateral edge can be divided into twisted edge and line edge. The twisted edge is solider than the line edge to ensure the mesh structure.

Production process of woven wire mesh
Material → melting → casting → extruding → stretching → annealing → pickling → drawing → fine grinding → warp knitting.

A piece of woven wire mesh with unilateral edge.
WMSM-02: Unilateral edge woven wire supporting mesh.A piece of woven wire mesh with bilateral edge.
WMSM-03: Bilateral edge woven wire mesh.
A bilateral woven wire support mesh has line edge.
WMSM-04: Line edge bilateral woven wire support mesh.A bilateral woven wire support mesh with twisted edge on the black background.
WMSM-05: Twisted edge bilateral woven wire support mesh.
Specifications of woven wire mesh

Material: low carbon steel wire or galvanized steel wire.
Wire diameter: 2 mm to 4 mm. Commonly is 2 mm, 2.5 mm, 2.6 mm, 2.8 mm, 3.0 mm, 3.5 mm, 4.0 mm.
Mesh size: 2 cm to 10 cm.
Roll width: 0.5 m – 1.5 m.
Roll length: commonly is 10 m. Others can be customized according to your requirements.
Features of woven wire mesh

Easy installation and connection.
Even meshes supply even protection for the roadway.
Galvanized steel wire for corrosion and rust resistance.
High tensile strength.
Tight structure and will not loose.
Related products
Here are several other types of wire meshes used as the coal mine supporting mesh like woven wire mesh, you can refer to them and choose the best one.

Welded wire mesh. Steel wire or reinforced bars for solid and high strength protection.
Chain link mesh. Flexible and soft structure for roadway roof and sidewall protection.
Crimped wire mesh. Crimped and woven structure for coal mine tunnel security.
Bilateral stretched plastic mesh. Bilateral stretch supplies even meshes and high strength to mine roadway roof and sidewall.
Steel plastic composite mesh. High tensile strength, fire retardant and great breaking strength.
A machine is installing the welded wire mesh onto mine tunnel roof.
WMSM-06: Welded wire mine supporting mesh.Four workers are installing the chain link meshes onto the roadway roof.
WMSM-07: Chain link mine supporting mesh.
A worker is installing the bilateral stretched plastic mesh onto roadway sidewall.
WMSM-08: Bilateral stretched plastic mine supporting mesh.Steel plastic composite mesh is installed on the roof and sidewall of mine roadway.
WMSM-09: Steel plastic composite mine supporting mesh.
Crimped wire meshes are installed at the top and side walls of coal mine roadway.
WMSM-10: Crimped wire mine supporting mesh.
Images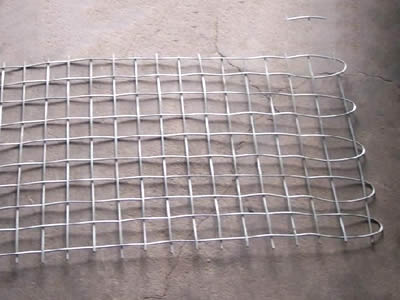 Contact information
Ask about this ad