Classified ad details
Perforated Steel Tube Most Affordable Alternative for Filtration - Other home & garden tools
Ref. number: 42405 Updated: 05-05-2019 10:08
| | |
| --- | --- |
| | |
Perforated steel tube (either hot rolled or cold rolled) is more cost-efficient compared with the other two types like stainless steel tube and aluminum tube. Though carbon steel is subjective to corrosion and rust, external protective coating will remedy its shortcomings. The frequent method to resolve corrosion problems is hot-dip galvanization, electro galvanization or other powder coated. These finish options greatly improve their service time and recyclability.

Steel perforated pipe are fabricated with diverse end forms, perforation patterns and margins. You can choose any kind to suit your special purpose. Click here for more info.

A piece of stainless steel perforated tube with round holes.
PST-1: Stainless steel perforated tube.Three copper perforated tubes with round holes in straight arrangement.
PST-2: Copper perforated tubes.
Applications:

Exhaust system; filtration systems, aerospace, paper & pulp, petrochemical, oil and gas, decorative architectural purposes and so on.

Product descriptions:

Material: mild carbon steel;
Outside diameter: from 1"to 5";
Length: to any length;
Hole diameter: 1/8";
Open area: up to 65%;
Wall thickness: 0.035" or as ordered.
Perforated steel tubing with standard unfinished end form.
PST-3: Steel perforated tube for exhaust system.
Images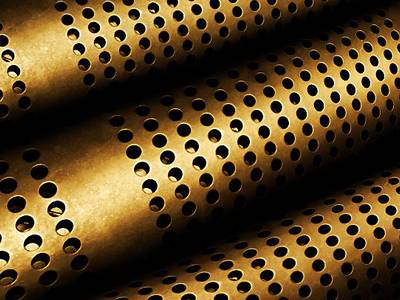 Contact information
Ask about this ad