Classified ad details
Perforated Stainless Steel Tube Used in Exhaust or Filtration Fields - Other home & garden tools
Ref. number: 42406 Updated: 05-05-2019 10:09
| | |
| --- | --- |
| | |
Stainless steel perforated pipe is great alternative for exhaust tubing of automotive applications. Owing to its excellent corrosive resistance and overall properties, stainless steel perforated tubing is completely recycled. Perforated stainless steel pipe are manufactured with various shapes of holes - round, slot and square in straight or staggered forms. You can choose lock seam or welded fabrication for your perforated pipe. Hole size can be customized according to your requirement.

Stainless steel perforated tube is widely used in harsh environments where common carbon steel is easy to get rust or fail.

Perforated stainless steel tubes with staggered perforations.
SPT-1: Stainless steel perforated tubing.Stainless steel perforated pipe filter.
SPT-2: Stainless steel perforated pipe used to make a filter component.
Applications:

Exhaust system; filtration systems, aerospace, paper & pulp, petrochemical, oil and gas, and so on.

Product descriptions:

Material: Stainless steel 409, 304, 316;
Outside diameter: from 1"to 3";
Length: 24", 48" or as required;
Hole diameter: 1/8";
Open area: up to 60%;
Wall thickness: 0.035";
Note: Margins, end forms and perforation patterns can be customized or specific.
Perforation pattern options:

Straight line;
Staggered;
End Forms:

Unfinished (standard);
Finished (non-standard).
Images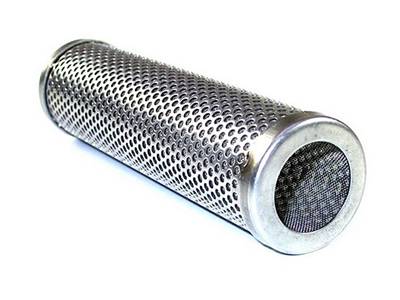 Contact information
Ask about this ad