Classified ad details
Straight Welded Perforated Tube for High Pressure Applications - Other home & garden tools
Ref. number: 42411 Updated: 05-05-2019 10:13
Straight seam welded perforated pipe is manufactured by perforated metal sheet which is cut to desired size and then rolled and welded into a tube. It is mainly used in high pressure applications where spiral tubes can't reach the working pressure.

Straight seam welded tube can be made of carbon mild steel, stainless steel and aluminum alloy. The tubes are fabricated with diverse patterns of perforation, hole shape and end margins.

Product description:

Material: stainless steel 304, 316L; mild steel, aluminum alloy;
Hole diameter: 3/8";
Wall thickness: up to 0.06";
Outside diameter: up to 10";
Length: up to 10';
Hole shape: round, square and slot.
A piece of stainless steel straight welded perforated tube with round holes.
SWT-2: Stainless steel straight welded perforated tube.
Images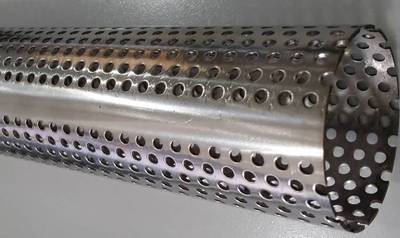 Contact information
Ask about this ad