Classified ad details
Perforated Casing Pipe Used in Oil Well for Oil Easy Flowing - Other home & garden tools
Ref. number: 42413 Updated: 05-05-2019 10:14
| | |
| --- | --- |
| | |
Perforated casing pipe creates a channel between the pay zone and the wellbore to make easy flow of oil and gas to the wellbore. Manufactured by N80, J55 or 13Cr110 which are confirmed by API casing or tubing specification, our perforated liners are featured by high strength and anti-deformation. Punched holes with diameters from 3/8" to 1/2" are arranged in straight or staggered conditions. Upon requests, holes and their configurations can be customized to satisfy diverse applications.

To guarantee the smooth operation, internal and external burrs are deburred according to API standards.

Distribution Pattern of Perforations

Punched holes are distributed in straight line or staggered forms. For staggered holes, the percentage of open area is higher than straight. You can choose any type according to your specific conditions.

Three hole-distribution patterns of perforated casing pipes: non staggered, spiral staggered, and staggered.
PCP-2: Perforation Patterns.
Many stainless steel perforated casing pipes with round holes in warehouse.
PCP-3: Stainless steel perforated casing pipes.
Images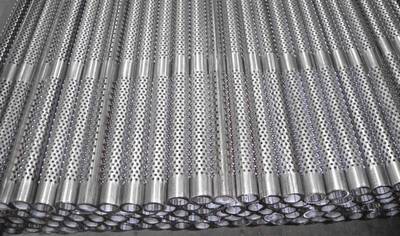 Contact information
Ask about this ad