Classified ad details
PVC Sound Barrier Gives You A Health and Silent Environment - Other bikes & equipment
Ref. number: 42438 Updated: 09-05-2019 04:32
| | |
| --- | --- |
| | |
Excessive noise can be a hazard, which seriously impact people's living level and health. That is why sound barrier is urgently needed in commercial, industrial, transportation, military, and roof-top mechanical installations.

PVC sound barrier is a new material in acoustic barrier material. Its main advantages depend on its non-corrosive nature and lighter weight than aluminum.

PVC sound barrier Classification
According to surface conditions of PVC sheet, it can be divided into absorptive barrier with slits or round holes and reflective barrier with smooth face. To absorptive PVC sound barrier, it is constructed with acoustical mineral wool. This kind of absorptive PVC barrier is the prior choice for industries and workshops. Smooth surface reflects unwanted noise back toward the noise source and beyond.

Benefits of PVC sound barrier:
Little or no maintenance since completion.
Recyclable and environment-friendly.
Never rust or corrosion.
Lightweight makes handling, transportation and installation easy.
Resistant to rain, snow, ice and sleet.
Anti-graffiti.
50+ years of service life.
Flexible PVC sound barrier used in workshops.
PCB-2: PVC sheet is very light and can be installed to any place.
Images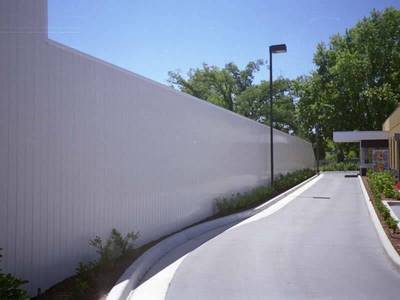 Contact information
Ask about this ad