Classified ad details
Aluminum Sound Barrier Absorbing Traffic and Machine Noises - Other bikes & equipment
Ref. number: 42439 Updated: 09-05-2019 04:32
| | |
| --- | --- |
| | |
Aluminum panels are often manufactured into sound barriers for lightweight, excellent corrosive resistance and self-support. Aluminum sound barriers are not only used in traffic areas but also factories and workshops where machines make serious noise pollution.

As an absorptive sound barrier, aluminum panel are designed with various hole patterns such as dotted or slits. To maximize sound absorptive performance, fillings are required such as EPDM, fiber glass and aluminum foam.

Many sound barriers make full use of advantages of clear noise barrier and aluminum barrier which can absorb noise and also provide support frame to polycarbonate or acrylic sheets. This sound barrier system will not obstruct light transmission while reducing noise level at utmost.

A freeway sound barrier with aluminum panel at the top and polycarbonate sheet at the bottom.
ASB-1: A composite noise barrier of aluminum and transparent sheet.
Why select aluminum panel as sound barrier?
Self-supporting system without requiring additional frames.
Light weight system makes installation easy.
High sound absorptive capability.
Its special corrosive resistance result in durable noise barrier, even in coastal areas.
Long durability.
Economic cost.
Custom sizes and shapes are available.
Where aluminum sound barrier used?
Industrial noise control around electric transformers, chillers and diesel power generator stations.
Integrated with transparent sound barrier along bridges, overpasses, railways, highways and roads.
Particularly ideal for lining underpasses, tunnels, and their entry and exist areas. Lining for reverberant barriers.
Residential and commercial soundproofing and decorative walls.
Key specifications of aluminum sound barrier:
Sound barrier panel thickness: 80 mm, 100 mm, 120 mm.
Sound barrier size: 2500 × 500 × 80 mm, 2500 × 500 × 100 mm, 2500 × 500 × 120 mm.
Sound barrier metal plate thickness: 0.5-1.2 mm.
H-post: 100 × 100 × 6 × 8 mm, 125 × 125 × 6.5 × 9 mm, 150 × 150 × 7 × 10 mm, 175 × 175 × 7.5 × 11 mm.
Sound barrier flange plate: 250 × 250 × 10, 300 × 300 × 10, 350 × 350 × 10, 400 × 400 × 10 mm.
Sound barrier panel type: shutter, perforated.
Green and white aluminum sound barrier along a heavy freeway.
ASB-2: Aluminum sound barrier are often found in heavy traffic areas for its excellent absorptive capacity and easy installation feature.A highway sound barrier made from aluminum perforated panel.
ASB-3: Aluminum soundproofing panels with small perforated holes maximizing sound absorbability.
Images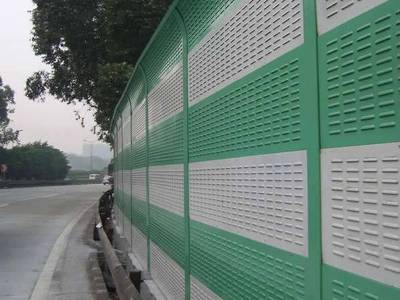 Contact information
Ask about this ad